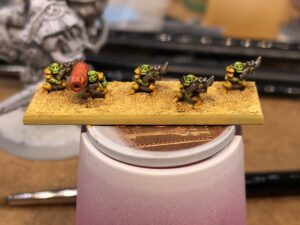 Skin:
Equal parts Plaguebearer Flesh, Nazdreg Yellow, and Warp Lightning.
Clothes:
Nazdreg Yellow, sometimes with some Contrast Medium.
Base:
Roughly 2:1 VMC Dark Sand and VMC Goldbrown, watered down.
Wash with watered down VMC Smoke and VGA Leather Brown by feet, watered down more as you go out.
Base edges touched up with VMC Dark Sand.